International Maritime Risk Rating Agency Help
WELCOME TO IMRRA - your source of reliable and transparent vessel bench marking vessel safety risk ratings database.
Vessels - User instructions Login
In the corresponding fields fill in your EMAIL ADDRESS and PASSWORD using your personal access details
Please make sure you keep your login details in a convenient place; you will need them each time you enter the site
How to search for the ship in the database
Click on the 'Vessels' tab for Dry Bulk or Liquid Cargo

In the Search field type the vessel name or IMO number and click "Search"

After the vessel is found click the "Details" button on the right

You will now see all the vessel details, including the vessel light traffic light risk ratings

Ordering Updated Reports
If you want to order a new vessel risk rating report, click on 'Order Updated Report'

Now you will view a brief overview of the vessel, and the cost for new reports

A prompt will ask you if you want to order a new report. Click the icon you want to order a new report
Once your request has been received you will view the following confirmation screen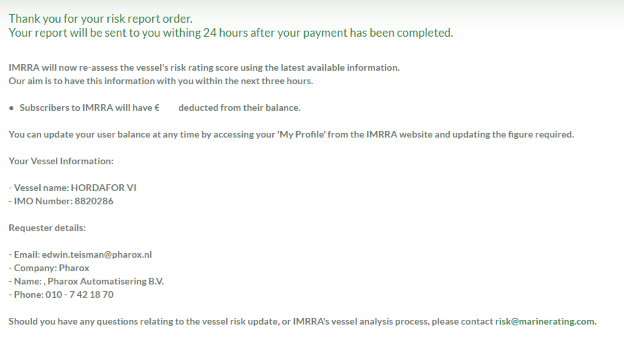 If you have credits you will receive your report within four-hours, or within 24 hours of cleared funds
IMRRA's Vessel Traffic Light Risk Ratings Explained
Red vessel risk ratings:

Require immediate action to control your potential hazard. High-risk probability for severe incidents and casualties.

Amber vessel risk rating:

A planned approach to vessel risk management, alignment of pricing strategy, or application of temporary risk management is required.

Green vessel risk ratings:

Green vessel risk ratings: High standards of vessel operation, more likely to increase your profits at a lower risk.
Vessel Percentage Risk Ratings Guide
Risk rating benchmark percentage valid day vessel assessed
Directly compare vessel risk performance rating against the vessel type average
Assess, implement and manage your company and vessel safety risk compared to fleet average for vessel type
How to order a new report
Enter vessel name, IMO number, and your contact numbers, to complete your request
You will be contacted to confirm your new vessel risk ratings request, and once payments are received you will have the latest report within three-hours
Alternatively, you can purchase risk rating reports via our trusted partner www.fleetmon.com
Vessel Not Found Request after a New Vessel Risk Assessment Report
Should the 'Search' button give you the following statement:

This means there have been no previous vessel risk assessments requested for your vessel.
You can request a new risk rating report by clicking the 'Add Vessel' button, and input the vessels onto the form

On the "New vessel Risk Rating page" type the Vessel name and IMO Number in the request form
Send the form by clicking on the "Send Request" button
You will be contacted to confirm new vessel risk ratings request, and once payments are received you will have the report within three-hours